LACY BAY BE
109133
DOB May 1996
Sire Gredington Calon-lan 27554
Dam Lacy Glory Be 88638
G-Sire Dukeshill Action Man 22573
CRICCIETH CLOTHES PEG
124988
DOB 12th May 2000
SIRE BONIFACE LLEWELYN 43473
DAM CRICCIETH PEG 82774
G-SIRE KELCOT BOISTEROUS 19480
HAVERFORD INGA 145709

DOB 8th May 2006

SIRE YSSELVLIEDTS SHY CHARMER (OS)56707 (HOL)

DAM FRIARS ICE BERG 109448

G-SIRE PENHWNLLYS CEWRI 22426 (UK)
Haverford Inga was bought at the May sale 2010 which incorporated the Stud reduction sale of The Haverford Stud.



Photo courtesy of animalsnapperphotograph
SHOWING RECORD

3rd ADWPCEG summer show small M&M June 2010

3rd Northeast of Scotland show July 2010 small M&M

5th Echt Show July 2010 Small M&M

1st Ythan Riding Club Show July 2010 small M&M

In-Hand ponies champion

Overall In - Hand Champion


Reserve Supreme Champion
SKELLORN RUBY ROSE

SIRE Skellorn Consort

DAM Skellorn Ruby Princess

Ruby has the most fantastic temperament. She is a grand Daughter of Berwynfa and Downland Chevalier. Hopefully Ruby will follow in her mothers footsteps who qualified for Olympia twice and winning RWAS as a yearling and under saddle

Show record 2010

North East of Scotland

Royal Highland Show 3rd barren mare Small M&M
DUNTARVIE TWYLIGHT

SIRE Duntarvie Crusader

Dam Lemonhill Starlight
DESARBRE HOLLYWOOD
By Desarbre Osprey out of Desarbre Painted Lady
KALISTALODGE ANASTASIA

SIRE PARVADEAN DIPLOMAT

DAM SYNOD ATHINA
Photos courtesy of Animalsnapperphotography
Echt Show 2010 2nd in hand Large M&M
Echt Show 2010 2nd ridden M&M
Photo By takeneventphotography
Kalistalodge Anastasia doing working hunter at Braco Show 24th July 2010
Banchory show July 31st 2010 1st ridden M&M large breed
Blackisle show 4th Aug 2010 2nd open ridden large M&M
Keith Country Show 10th Aug 2010 2nd in hand Large M&M + Res Champ
2nd ridden Open large M&M
Falcams Ella Rose


Grey Connemara Mare born 1996- 2012


Sire Tulira Mairtinson

Dam Tyrone Lady

This mare is Ellie, she is a registered Connemara who has been in the family since a weanling . Ellie was successfully shown in hand and later broken to ride.

Ellie produced her first foal, a filly by Sydenham Jack in 2006.

In 2008 Ellie went down to Skellorn Stud visiting Skellorn Harrison and produced my first home bred connemara filly Myriewell Fancyface

In 2011 Ellie will be covered with Skellorn Madison.
TYAN TRANQUILITY
Class 1 Connemara
filly
By MacCloonisle
Out of Croftbank Miss moonbeam
Tyan Tranquility 1st and Reserve Champion The North Of Scotland Welsh Pony and Cob Show 19th June 2011
Tyan Tranquility 1st and Reserve Champion Northeast of Scotland Riding Club Show 3rd July 2011
Tyan Tranquility Scottish Horse Show 2012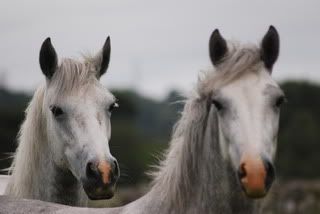 inseparable friends Tyan Tranquility and Myriewell Fancyface
MYRIEWELL FANCYFACE
Class 1 Connemara filly
By Skellorn Harrison
Out of Falcams Ella Rose
| | |
| --- | --- |
| | at two weeks old |
This is FancyFace at 6weeks old

Fancy Face now 15 weeks old

Now all grown up at 2years old
VERY SADLY FANCYFACE WAS PTS AFTER ACCIDENT IN THE FIELD
BAA BAAS TIGGY WINKLE
By Eskdale Music Boy
Out of Little Wren Swallow